One of the most tragic aspects of Haitian culture is a long-standing caste system. Although there have been some improvements in recent years, the roots of this system still run deep and have a dramatic impact on the living conditions of the lowest class.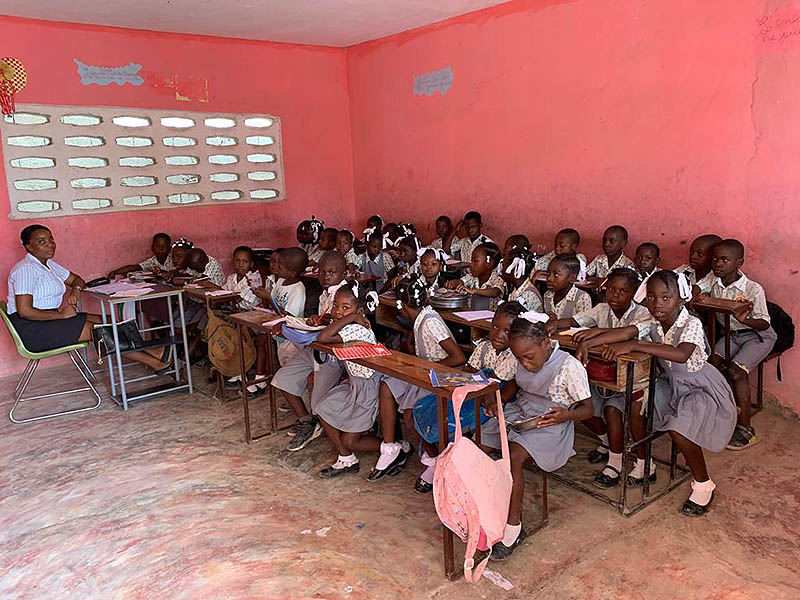 In short, the rich minority rule the impoverished majority. The Haitian elite are defined by family status, political and business prominence, economic success, and education level. If you are born into the family of a rural farmer, your chances of receiving an education and gaining a modest income to provide for your future family are negligible.
Education can be expensive. The majority of Haitians are struggling to provide food for their families. Food and shelter obviously come before education, thus a vicious cycle is created. The poor remain uneducated and impoverished with no hope of advancement, and the rich grow in wealth and comfort.
By providing free education to children in the surrounding villages, Bethel Mission Outreach is providing much more than knowledge. We are providing a hope and a future for these children and their families. In addition, these children are not only learning to read and write, but most importantly, they are learning about Jesus Christ.
Therefore, our vision is not to simply educate children in worldly principles, but also to equip with the truth of the Gospel. The ultimate source of hope will not be found in their societal advancement, but in a lasting relationship with God.
The Needs
As with all of our initiatives, School Sponsorship is a needs-based ministry. Right now, there is a great need in Haiti for children to be educated and fed. Bethel Mission Outreach is meeting these basic needs for 220 children. We also hire local Haitians to run the school, which provides a steady source of income for teachers and workers in our community. All these services that we provided to the people come at a great expense to our ministry, which gives you an opportunity to partner with us!
How Do I Participate?
We would like to invite you to support us financially as we provide the children with a brighter future. We are now able to receive donations through this website, which will be directly used to fund our school, feeding program and the house of prayer. Your monthly contribution can make all the difference.
Eternal Impact
It must be stated that our ultimate goal in providing free education to the children is to share the love of Jesus Christ. Children have emotional needs, physical needs, and medical needs, but more than all the external needs, each child is in desperate need of a savior.
We stand firm in our conviction that our primary role as educators is to present each child with the truth of the Gospel. By sponsoring our school, you can rest assured that you are having an eternal impact on their lives.