Greetings everyone!
Thank you very much for your continued prayers and support.
I'm having a tremendous time in the D.R.!! The Lord is moving and I'm following Him wherever He allows me and it's so exciting! I'm extremely grateful for the opportunity to preach, teach, evangelize and pray with lots of folks these past few days.
Last Sunday, after my message to the church, the Holy Spirit fell on the people. When I gave the alter call to see if anyone needed a touch from the Lord, I was blown away! About 90% of the congregation came forward to receive from God. I said these people are hungry for the presence of the Lord!
The last couple of days Pastor Esias & myself have gone door to door sharing the good news of Jesus to anyone who would listen. I have to tell you that I'm extremely encouraged by the responses. So far I have led 10 people to the Lord in just 2 days! Praise God!
I've also had the privilege to pray for many people but would like to highlight a particular woman who could barely walk or bend down. Her situation begin after an injury, however, as soon as I laid my hand on the affected area, she was instantly healed & filled with the Holy Spirit!! She was able to bend down and jump up and down, something she couldn't do before. If you where looking for a moment to praise the Lord, now might just be the right time!!
Helping Sylvia in Dominican Republic
Two years ago, when I came to the Dominican Republic, I met quiet a few people but one lady by the name of Sylvia, absolutely touched my soul. Sylvia doesn't tell her real age but she thinks she's over 100! She lives in a little hut made of rusted tin with no windows; the building is barely held together with unfinished pieces of wood that are partially rotted. Sylvia is blind and lives alone. She has a son who lives in Brazil but doesn't take care of her, according to the pastor I'm working with.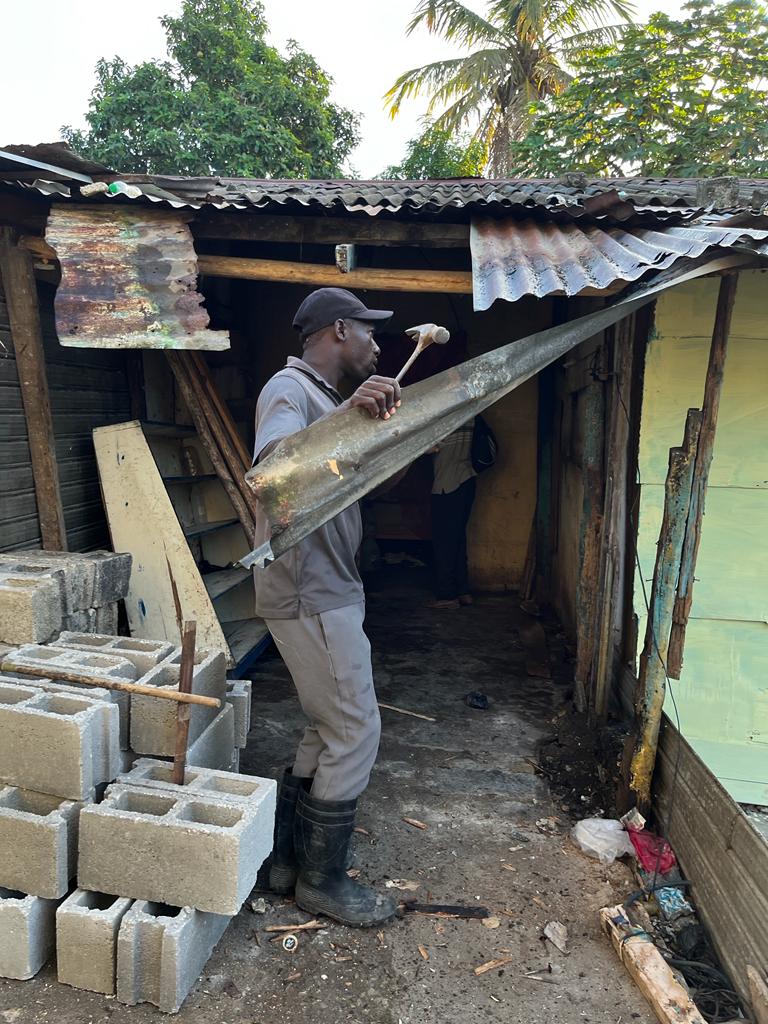 Sylvia is one of the most authentic Christians Ive ever met! Her smile and faith in Jesus makes me feel so small in her presence.
When I met her, I fell in love with this beautiful sister. I love the way she loves Jesus; the peace that she carries is something that everyone should go after. She is the real deal! I met so many people in her situation that are angry, bitter and mean spirited but Sylvia is always joyful, kind, and very confident in her Savior Jesus Christ. Her blindness & living conditions (no indoor plumbing, electricity, or clean drinking water, just to name a few) doesn't affect her ability to be who she's called to be; a daughter of the most High God.
After seeing her this time around, I challenged myself to never complain again! Sylvia is a blessing to me.
Rebuilding Homes in D.R.
But, it's not enough to brag about her, I want to help her by rebuilding the front part of her home, which is only 16ft x 8ft. I'm concerned that the structure may collapse if there's ever strong winds in her area. So today, I purchased all the materials needed to start the rebuilding process. Tomorrow, with God's help, we will work from sun up to sun down and continue until its done! I'm so excited!
Support Bethel Mission
Please continue to pray for me and my family as I pray for you.
May the Lord bless you and keep you, may the Lord make His face to shine upon you and give you peace.
May the Lamb that was slain receive the reward of His suffering.
Your brother,
Gary